DOORPUNCHER
LOWREZJAM just finished up, I made a tiny game in 15 days. It's called DOORPUNCHER!
Open your front door. Monster? Beat them to a pulp, Jojo style. Friendly? Try not to punch them.

Yes, this is the game where you can accidentally punch babies.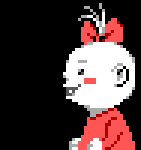 Give it a try!
Despite not a lot of features being implemented (some sound effects are missing, the music is placeholder, only one enemy, blocking mechanic is wack) I feel like the formula has potential.
What do you think? Happy to hear your feedback!
When will I post the game to NewGrounds?
-When it's a little more complete. I want to add in the intended 3 enemies, have some custom music, and add the missing sound effects at the very least. Then I would love more of your feedback!